VIVID ENTERTAINMENT BV LAUNCHES "VIVID RED HD" IN EUROPE
New Full 24/7 HD XXX Adult Entertainment Channel with Fresh and Diverse Programming
The Netherlands – (December 19, 2017) – Vivid Entertainment BV, the European arm of the fast-growing television division of Los Angeles-based Vivid Entertainment, will launch Vivid Red HD, a new XXX adult entertainment channel on 1 January 2018. The new 24/7 channel will be available on the Hotbird satellite in full HD and will broadcast under a Dutch licence. It will air best-selling movies from Vivid's huge and varied library and will be refreshed regularly with new video content from numerous European and American studios.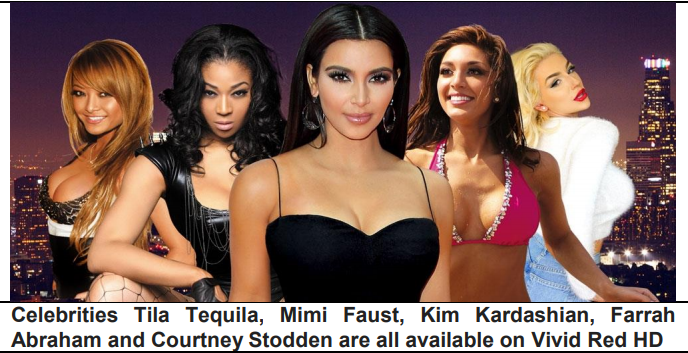 Leading Polish pay-tv operator Cyfrowy Polsat, and the largest Slovenian IPTV operator T-2 will be amongst the first to introduce Vivid Red HD, on 1 January 2018. Several other operators in Europe will launch the service in the first quarter of the year.
Vivid is the world's most award-winning adult film company, earning international headlines for sex tapes showing the escapades of famous celebrities such as Kim Kardashian, whose huge success has been attributed in part to the best-selling video Kim Kardashian Superstar. Among many other stars in the VividCeleb collection are Farrah Abraham, star of MTV's Teen Moms OG, plus Kendra Wilkinson, Pamela Anderson,Tommy Lee and many more.
Vivid is constantly approached by famous European celebrities eager to market their own sex tapes and the company anticipates that it will be featuring some of this exciting content on Vivid Red HD in the near future.
The Vivid brand is firmly established in more than 50 countries and the company is quickly becoming the leading adult entertainment provider in Europe with linear channels such as Vivid TV Europe and Vivid Touch, now joined in January by Vivid Red HD. In addition, Vivid on Demand has grown dramatically over the past year across Europe, with a large number of operators taking advantage of a tailored VOD Celebrities Tila Tequila, Mimi Faust, Kim Kardashian, Farrah Abraham and Courtney Stodden are all available on Vivid Red HD service. Vivid also has the exclusive broadcast rights to Kink.com BDSM movies in Europe.
Vivid was founded in 1984 by Steven Hirsch, its current co-chairman, credited by Adult Video News with having "single-handedly moved adult entertainment into the mainstream." It has the largest film archive of any single studio in the adult industry and has won more awards for excellence than any other company.
About Vivid: The Vivid brand is built on high quality films and innovative marketing and has been in business for over 30 years. Vivid's divisions include fast growing broadcasting with Vivid channels and VOD platforms broadcast around the world and the Internet with its newly updated website Vivid.com and which now includes many other sites and the complete celebrity sex tape library. Licensing programs extend from condoms to gentlemen's clubs. For more on Vivid visit twitter.com/VividCorp or Facebook.com/Vivid.
Media Contact: For more information or interviews email jackie@vivid.com Please contact our Sales Team on sales@vivid-eu.com for more information on Vivid Red HD, Vivid Touch, Vivid TV and Vivid On Demand.